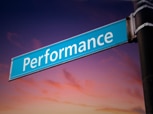 The Power of the «Performance on Traffic»
Considering that it is more and more expensive to attract customers to visit and buy in stores and the economic forecast for the coming years lead us to be more careful in planning sales growth, retailers have to work harder to generate greater profits.
Needless to say that customer traffic is a key performance indicator (KPI) for explaining sales revenues as shown in the following retail equation:


Said simply, retailers need customer traffic to sell. The more traffic there is the more potential there is, and vice versa. What retailers do with this potential (traffic) will have a direct impact on sales results, in other words, this is what we call "Performance on Traffic" (P.O.T.).
The P.O.T. represents the Performance on Trafic for each 100 potential customers for a given period
(hour, day, week, etc.).
P.O.T. is calculated as follows:
P.O.T.  =  Conversion Rate (or % Sold)  X  Avg. Sale $  X  100 customers

Example: For every 100 customers entering a store, 15 make a purchase with an average value of $50:


The concept of P.O.T. was developed by leaders at Axper after several years of collaboration with various North American retailers who had fallen into the trap of focusing too much on conversion rate to improve sales and profits. After a while, these same retailers realized that their net sales increased only slightly despite the increase of conversion rate. After a concerted analysis, the findings showed that the message from management to sales staff in the store was so focused on increasing their conversion rate that their average sale went down. So they underwent an increase in the number of transactions (or conversion rate) to the detriment of the quality of the sale (or the average sale) for similar sales results. This is how Axper came to develop tools, methods and expertise to improve sales, not only the conversion rate, adding the new index that is the P.O.T., combining both the quantity of sales to the quality of the sale, which allows retailers today to avoid the trap.
In the following table, please find an example using 2 consecutive weeks with similar traffic: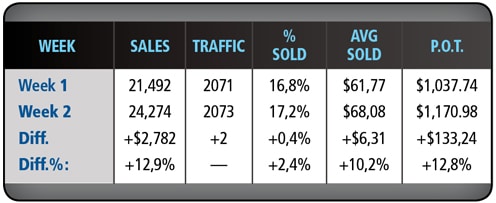 In this table, the 12.9% increase in sales can be explained with the increase of the two variables constituting the P.O.T. and not the increase of traffic or % sold alone. This 12.9% increase in sales consequently comes from a better performance on store traffic, from $1037.74 to $1170.98. This improved performance can be explained by a 10.2% increase in the average sale combined to an increase of 2.4% of the % sold. Thus, with similar traffic, sales performance will improve if we work on both the conversion rate and average sale.
Moreover, in a context where there is little or no increase in traffic, it makes sense to develop strategies to improve sales performance on traffic already in store for more sales and profits.
HOW A BETTER SALES PERFORMANCE ON TRAFFIC CAN IMPACT YOUR PROFITS
Using the same retail equation and adding the sales cost (number of staff hours 290 X an average salary of $15 per hour) as well as the ratio in % of sales, the following example will demonstrate that greater profits are generated with a better sales performance on traffic, while maintaining the level of service using 290 staff hours.
Actual sales performance and costs


Better sales performance KPI and cost


In the above example, better sales performances on traffic affect positively the net profit by reducing the salary cost.  More specifically, a decrease of 1.0% (from 12.1% to 11.1%) and 1.5% (from 12.1% to 10.6%) in the salary % goes directly into the bottom line, increasing profit by the same % for the store/chain, assuming all other costs remain stable.
In summary, developing strategies to improve the performance on traffic can be a low cost solution to impact positively and rapidly both sales revenues and profits: change for more profits.