Corporate News
---
What's new?
The Complexe Desjardins is associated with the intelligent solution Axper for the calculation of the reception capacity of its customers.
Published on February 15, 2021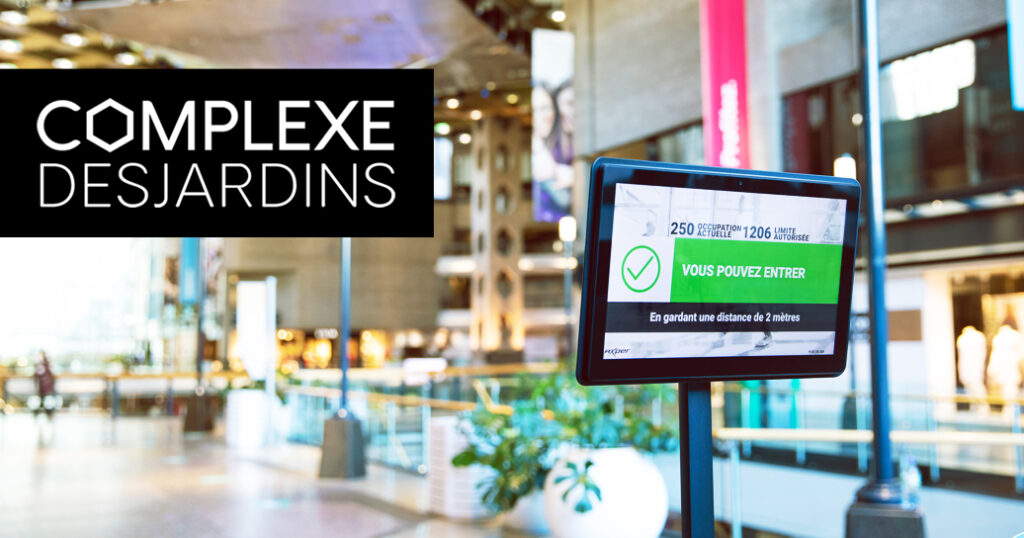 Complexe Desjardins is proud to inform its customers of the implementation of its project to automate health security measures. In collaboration with the technology company Axper, the Complexe Desjardins has integrated 60 3D sensors to validate the entrances and exits of its customers.
"We are proud to offer Complexe Desjardins customers a shopping experience without worrying about physical distancing or the risk of spreading covid- 19. Our technology allows the calculation of traffic but does not use or record any data, ensuring confidentiality. – Mr. Dominic Sicard, President of Axper Inc.
Software analyzes entries and exits ensuring that the health rules in force are maintained. Customers are informed in real time of the number of people inside Complexe Desjardins thanks to two screens installed at the main entrances.
"Since its opening in 1976, Complexe Desjardins has constantly innovated by offering its loyal customers the best possible service. In the current pandemic situation, innovation means integrating the most advanced technologies in the industry to ensure the safety of our employees, partners and customers." – Mr. Jean Ruest, Marketing Director.
Complexe Desjardins
Located in the heart of downtown and the Quartier des spectacles de Montréal, and linked to the underground network, the Complexe Desjardins is one of the most important multifunctional buildings in the city and is one of the busiest. Three office towers and a shopping mall surround a large public square with a spectacular fountain. https://complexedesjardins.com/
Axper
Axper is a high-tech Quebec company specializing in automated traffic management and occupancy analysis. Thanks to more than 15 years of experience in this niche market, the company has deployed thousands of 3D sensors and artificial intelligence technologies around the world. Axper's main sectors are the retail industry and intelligent building management. www.axper.com